TEXTRON THROUGH THE DECADES
Textron started as a small textile company in 1923, when 27-year-old Royal Little founded the Special Yarns Corporation in Boston. Sales that first year were just $75,000. Today that company has grown into a highly successful multi-industry enterprise recognized around the world for our network of powerful brands, world-class processes and talented people.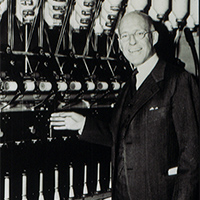 As a major producer of parachutes and other textiles used during World War II, the '40s ushered in a period of growth and activity for the company, which was then doing business as Atlantic Rayon Corporation.
With government contracts dwindling at the end of the war, Little faced the challenge of declining revenue and underutilized production capacity. To meet the challenge, he developed a vertically integrated company that controlled every operational aspect from raw goods processing to distribution and moved quickly from producing parachutes to making lingerie, blouses, bed linens and other consumer goods.
To reflect the new business model and expanded product portfolio, Little chose the name Textron—a combination of "Tex" from textiles and "tron" from synthetics, such as Lustron. The theme of the advertising reflected Little's vision: "From yarn to you, it's Textron all the way."
Marking a major milestone for the company, Textron was listed on the New York Stock Exchange on December 22, 1947.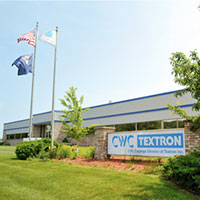 To offset yet another decline in the demand for textiles in 1952, Little developed a diversification strategy. He planned to maintain textile operations as an earnings base while acquiring non-textile businesses.
In 1953, Textron purchased its first non-textile business, St. Louis-based Burkart Manufacturing Co. that supplied cushioning materials to the automotive market.
Little acquired companies at a rapid pace and built upon his successes by entering new lines of business with small, incremental investments.
Among the more important businesses added in the 1950s:
Homelite - retained until 1994

Camcar - retained until 2006

CWC – Still a part of Textron today, CWC produces cast iron engine components.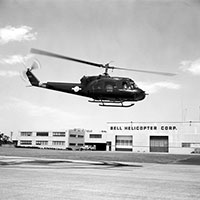 At the end of 1960, Royal Little retired, but not before carving Textron's imprint into the transportation industry with the purchases of two companies that are still part of Textron today: golf car manufacturer E-Z-GO and Textron Bell Aerospace—which included Bell Helicopter. Buying Bell balanced Textron's earnings base by increasing its government business.
The Bell purchase coincided with the country's escalated involvement in the Vietnam War. Throughout the decade, the U.S. Army deployed Bell OH-58A and Bell AH-1 Cobra aircraft in combat. The Army embraced the AH-1, also known as the HueyCobra, in part because of its slim profile and lighter weight plexiglass canopy. The aircraft gained prominence during the war years and is considered one of the major U.S. successes in Vietnam. HueyCobras flew more than one million operational miles in Vietnam, and the number of aircraft in service peaked at 1,081.
As Bell Helicopter was making its indelible mark on the military, Little's successor, Rupert Thompson, and President G. William Miller bade farewell to the textile industry in 1963. Thompson and Miller continued Little's strategy of acquiring companies, penetrating various consumer markets with the purchase of watchband manufacturer Speidel; Sheaffer Pen; staple and nail gun maker Bostich; and Rhode Island-based silver company Gorham. Throughout this period, Textron was recognized as the pioneer of the conglomerate and one of the most highly diversified corporations in the U.S. In 1967, the Wall Street Journal called Textron "the conglomerate king."
The post-World War II economic boom came to a crashing halt during a decade marked by an oil crisis, a stock market crash and the demise of Richard Nixon's presidency. Yet, amid this turmoil, while many conglomerates struggled to maintain positive cash flow, Textron persevered by winning new customers in the aerospace industry and by never wavering from its acquisition strategy.
Bell Helicopter, which relied on the U.S. government for 85 percent of its sales in the '60s, developed a broader customer base and enjoyed a surge in profits as a result. By 1975, its sales were evenly divided among three sectors: commercial (both domestic and international), U.S. military and foreign government.
With its solid footing in the aerospace industry providing financial stability, Textron grew again with the purchase of Jacobsen in 1978. Still a part of Textron today, Jacobsen produces the world's broadest lines of professional turf maintenance equipment and lawn care machinery.
As the decade drew to a close, Textron experienced changes in leadership. Miller's tenure ended in 1977 when President Jimmy Carter nominated him to be chairman of the Federal Reserve. Joseph Collinson succeeded him and led the company until he retired in 1979 when Robert Straetz was named chairman and CEO. He and President Beverly Dolan would lead Textron into the reviving economy of the '80s.
In October 1984, Textron emerged newly strengthened for expansion in a rising economy. Straetz and Dolan realized that strategic acquisitions would remain essential for sustained growth.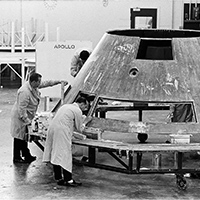 In 1985, Textron acquired Connecticut-based AVCO Corporation, a $2.9 billion conglomerate that played a major role in the Apollo missions of the 1960s and early 1970s. NASA chose AVCO to design and install the heat shield. AVCO pioneered the heat resistant material that charred to form a protective coating and block the heat from penetrating the space capsule. Textron, which nearly doubled in size with this acquisition, transitioned the business to Textron Defense Systems which evolved into today's Textron Systems Weapons & Sensor Systems. A leader in intelligence-gathering capabilities and advanced protection systems necessary for mission success, Weapons and Sensor Systems continues to provide these heat resistant materials—the thermal protection material of choice for the current NASA Orion Crew Exploration vehicle program.
In 1986, Textron continued to strengthen its position in the defense industry by forming Textron Marine & Land Systems from a Bell Helicopter business. A manufacturer of an extensive line of military security vehicles, including the COMMANDO™ family of four-wheeled armored vehicles, and marine craft, Textron Marine & Land Systems was chosen to produce the Landing Craft, Air Cushion (LCAC hovercraft) for the U.S. Navy.
True to its tradition of diversification so as not to rely on one industry, Textron bought Greenlee in the same year. Based in Rockford, Ill., Greenlee, still a Textron company, is known as a premier manufacturer of professional contractor tools that are recognized for their excellent value, superior performance and durability. With more than 4,000 offerings in its product line, it is the preeminent brand name among trade professionals who work with wire, cable and electrical infrastructure.
With only a decade left in the 20th century, Textron developed a laser-sharp focus on obtaining 100 percent of its revenues from its core businesses—aircraft, automotive, industrial and finance—and on increasing its international revenue as a source of growth.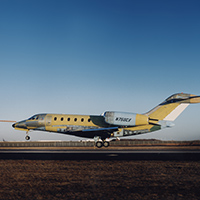 James Hardymon, who was named chairman and CEO in 1992, quickly set out to achieve these goals by acquiring Cessna Aircraft Co. Already popular with pilots worldwide, the U.S. government and foreign militaries, Cessna—as a leader in light and medium-sized commercial business jets—balanced Bell's significant defense-related business activity. Textron's purchase of Cessna as well as Germany-based Kautex—a global fuel tank and system supplier to the automotive industry—bolstered its core; these businesses' revenues totaled $3.9 billion.
To deepen its focus on aircraft, automotive, industrial and finance, Textron decreased its holdings in military contracting, insurance and consumer products, divesting "non-core" businesses that represented $2.8 billion in revenue.
Wall Street reacted well to these activities. Hardymon's concentration on achieving a consistent and strong financial performance resulted in 45 quarters of continuous year-over-year quarterly earnings growth. During his tenure as CEO, the stock price increased from $19.81 per share on January 1, 1992, to $71.69 per share on June 3, 1998, reflecting the market's strong correlation between earnings growth and stock price appreciation.
Having reached the objectives he set at the beginning of the decade, Hardymon retired in 1999. His successor, Lewis Campbell, ushered Textron into the 21st century.
Early in the new century's first decade, Campbell immediately set a new vision for the corporation: to become the premier multi-industry company, recognized for its network of powerful brands, world-class enterprise processes and talented people. This shared vision became a unifying mission for Textron employees worldwide.
Realizing this vision involved a company-wide restructuring program to increase operational efficiency. The transformation included the consolidation of several manufacturing facilities, more unified systems and standards and shared services across the business units. Campbell also championed the idea of moving Textron's most skilled managers from one business unit to the other, helping to bolster company-wide performance significantly.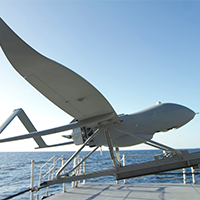 The strategic divestitures and complementary acquisitions that Campbell orchestrated strengthened Textron's product portfolio. The company's Fastening & Systems and Fluid & Power businesses were among those Campbell sold, and Overwatch Systems and AAI joined Textron in 2006 and 2007, respectively. As part of Textron Systems, Overwatch has since evolved into Advanced Information Solutions and Geospatial Solutions. Similarly, AAI transitioned into three operating units: Electronic Systems, Support Solutions and Unmanned Systems.
To help ensure that Textron continued on a positive trajectory, Campbell led a multi-year succession planning process that culminated with his retirement as CEO on December 1, 2009. Scott Donnelly, then-president and COO, succeeded Campbell and became chairman of the board in September 2010.
Early in his tenure, Donnelly faced the challenge of leading Textron through a global economic crisis. During this tumultuous period, he put Textron's liquidity strategy on a strong path and spearheaded restructuring initiatives and operating improvements across Textron, building upon Campbell's vision and taking it to the next level. With a steadfast focus on disciplined execution and profitable growth, he significantly increased the company's pace of new product development and reinvigorated acquisition activities.
In 2013, Textron acquired Sherman + Reilly, a manufacturer of underground and aerial transmission and distribution products and HD Electric, a designer and manufacturer of power utility products and solutions that test, measure and control electric power. These companies have a rich history of innovative products. The combination of HD Electric and Sherman + Reilly allows Textron to offer a more complete product solution to the power utility customer than we had served with our Greenlee products.
To complement our already strong aviation and utility vehicle businesses, Textron bought TUG Technologies in 2014 and Douglas Equipment in 2015— two of the world's leading providers of motorized aircraft tugs and ground service equipment used by hundreds of airports globally. These acquisitions are a strategic fit for Textron, as all aircraft require ground support of various vehicle types. With established leadership in aviation and work vehicles, Textron is well-suited to grow these brands and introduce new products and services.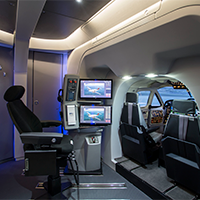 Further leveraging our strength in the aviation industry, Textron acquired Mechtronix in Montreal, Quebec, and OPINICUS in Tampa, Fla. in 2013. Donnelly combined these innovative flight simulation companies, along with Textron's AAI Logistics & Technical Services, to form TRU Simulation + Training in 2014.
Each of the companies was a leader in the markets they served. Mechtronix delivered commercial flight simulation technology, mainly in emerging markets. OPINICUS' full flight simulation technologies offered training solutions to civil and military markets, while AAI Logistics and Technology focused primarily on defense. As TRU, this business is developing a well-rounded portfolio of products and services designed for entry-level to advanced pilots and maintenance crews. TRU serves four primary market segments:
Air Transport Simulation

Mission & Maintenance Training

Business & Military Simulation

Training Centers and Services
Donnelly further penetrated the aviation market with the purchase of Beechcraft in 2014, forming a new business segment called Textron Aviation that includes three powerful brands: Beechcraft, Cessna and Hawker. By joining these three iconic brands, Textron Aviation brings 200+ years of combined aviation experience to the market and an installed customer base of more than 250,000 airplanes worldwide.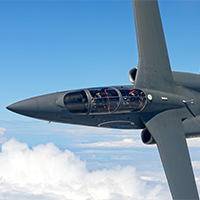 Capitalizing on our expertise in aviation and defense, Textron formed Textron AirLand, LLC, with the purpose of designing and manufacturing an affordable, capable jet platform based on commercially available technologies and processes for the tactical military jet aviation market. Textron AirLand produces the Scorpion, an entirely new twin-jet tactical aircraft designed to serve multiple missions for the U.S. and partner nations.
Recognizing the opportunities to move into adjacent markets in need of specialized vehicles, Textron purchased Bad Boy Buggies in 2010 and Dixie Chopper in 2014. Bad Boy's dual-motor, fully electric four-wheel drive vehicles—machines that combined unparalleled off-road ability with quiet, emissions-free operation—strengthened E-Z-GO's house of brands. Dixie Chopper similarly impacted Jacobsen. Known as the maker of the world's fastest lawn mower, Dixie expanded our reach into the consumer and commercial sectors, including municipalities.
Under Donnelly's leadership, Textron's steadfast execution of its financial and operational strategies continues to build value for all of its stakeholders. Combined with its portfolio of renowned brands and some of the most sophisticated and leading technology products in the world, there are tremendous opportunities ahead for Textron and its customers.
Through decades of innovation, Textron brought many firsts and best-in-class products to the markets we serve. These are just a few examples of how we anticipate our customers' needs and deliver products that help our customers solve business problems:
These are but a few examples of Textron's commitment to innovation. All of our businesses are dedicated to developing advanced products and technologies to meet the current and future needs of customers, while making us leaders in the markets we serve.
Textron continues to blaze a trail with innovative products created by our talented workforce, with a sales and service network that spans the globe. With a presence in 25 countries, we maintain a sound understanding of market environments, strengthen our capability to identify and respond to new market opportunities and engage customers more effectively.