A GROWING PRESENCE IN INDIA
Textron India Private Limited is a wholly owned subsidiary of Textron Inc. (NYSE:TXT) ("Textron"). Textron is one of the world's best known multi-industry companies with its business organised within five segments: Bell, Textron Aviation, Textron Systems, Industrial and Finance.
Textron India Private Limited ("TIPL"),which was set up in 2004 with its registered office at Bangalore, is engaged in undertaking engineering design and support services including drafting, computer aided design, computer aided engineering, solid modelling, finite element analysis, sourcing, marketing, and other related activities and services, for Textron's business units. TIPL has been registered as a unit under the Special Economic Zone Scheme of the Government of India. Under the agreement for provision of services, the software or hardware designed, developed, amended or modified are the properties of Textron and such ownership does not vest with TIPL. TIPL also provides information technology ("IT") and marketing support services to Textron's businesses.
INDIA OPERATIONS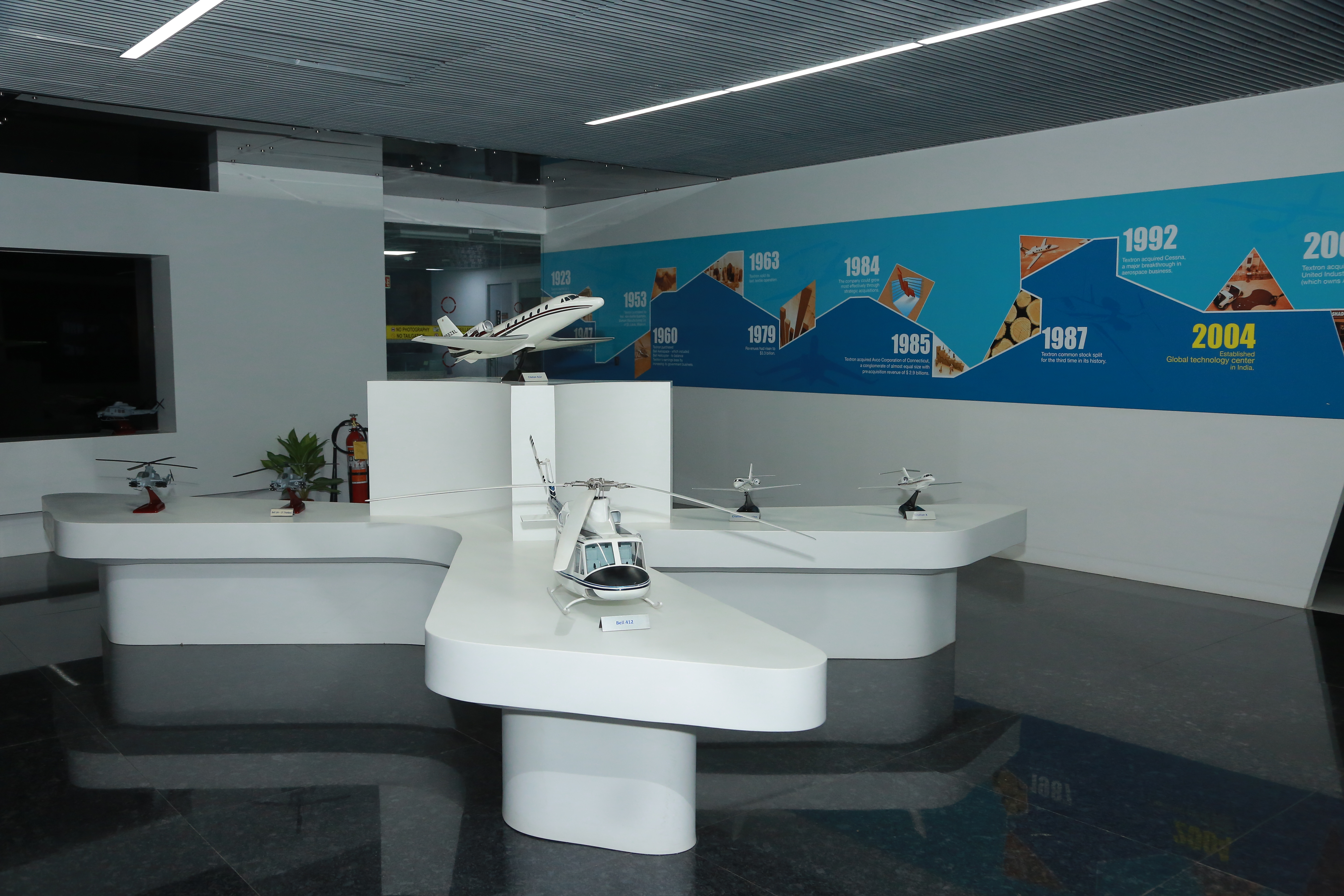 TIPL provides engineering design and support and IT support services to various business units of Textron. This work is backed by a business development team responsible for building business potential in the region and networking with the regulatory authorities and government agencies to promote interest in our businesses.
The functions rendered by TIPL to the various Textron business units are detailed as follows:
ENGINEERING DESIGN SERVICES
Bell: The Bell business unit in India has competencies in areas of engineering, manufacturing and customer solutions. The team is skilled in aircraft design, structures, aircraft systems, dynamics, production engineering and technical publications. In collaboration with the Bell parent business unit, the team provides support to new and existing products of Bell.
Key activities performed by Bell business unit of TIPL are:
Design:The design team in India is engaged in the design of airframe and systems components using CAD/CAM tools such as CATIA/Enovia.

Analysis:The analysis team evaluates the designs by performing various analysis like stress, fatigue, dynamics, simulation, costing analysis, materials & processes, reliability, performance analysis etc., using various commercial and custom-developed tools.

Production Support: The production support team is engaged in supporting manufacturing planning, tooling and quality. The team is also involved in supporting Bell suppliers in the region.

Technical Publications:The technical publications team prepares manuals, illustrations, parts catalogues and other materials for all the commercial models of Bell.
Textron Aviation: The Textron Aviation engineering support group employs skill sets such as aircraft design, structural integrity, systems, material and processes and technical publications. This business unit is involved in designing, modeling, detailing, design changes incorporation, authoring system safety & tech pub reports and the transition of data for software upgrade projects. This group adheres to existing company processes and collaborates with engineers based in Wichita, Kansas, U.S.A.
This business unit is divided into the following groups:​
Design Group:The design group generates new design and design changes to the existing design based on the requirements.

Structural Integrity: Structural Integrity is comprised of the Dynamic Loads and the Weights group. The Dynamic Loads group calculates and analyzes the distribution of dynamic loads on major structural components of the aircraft. The Weights group creates mass properties data and supports aircraft delivery activities.

Systems Group: Systems group comprises of Electronics, System Safety and Mechanical System groups. The Electronics group is engaged in designing and testing printed circuit boards for various electronics. The System Safety Group analyzes aircraft systems and authors system safety reports. The Mechanical Systems group works on design and installation of mechanical and electrical systems.

Material and Process Group: The material and processes group provides support related to part producibility, cost estimation, materials used on aircraft, and associated product technology

Technical Publication Group: The technical publication group creates illustrations, parts catalogues, flight, maintenance and wiring diagram manuals.

Software Group: The software group develops and maintains applications required for the various functional groups in engineering.
Kautex: The Kautex business unit in India employs engineers who utilize CAD and computer aided engineering (CAE) software for design and finite element (FEA) analysis support activities for fuel systems, clear vision system (CVS) and selective catalytic reduction (SCR) systems. It undertakes feasibility/concept studies for tanks and fuel level simulations for quotations, design optimizations for tooling, design support for system development of various original equipment manufacturer (OEM) programs, standardization of components and legacy conversions, parametric models of tanks and associated components and incorporating various designs.
The functions performed by the Kautex business unit in India include:
Design: The design team supports product design and development utilizing different engineering applications including CATIA and Unigraphics. The designs are subject to review and approval by Textron's Kautex business unit.

Analysis: The analysis team analyzes designs developed by the design team or requests raised by the Kautex business unit of Textron. Areas of responsibility include drop tests, computation fluid dynamics/slosh tests, sledge tests and tests on different temperature conditions, load conditions, and other analysis using various engineering applications.

Materials Compliance: The materials compliance team coordinates with suppliers around the world to ensure that production materials purchased by Kautex or its suppliers are compliant per applicable regulations. All materials or components are listed on the International Materials Database Management System.
Textron Specialized Vehicle: TSV in India supports design and development, technical publications, change management and parts and accessories activities. Supported products include light transportation vehicles (including golf cars, utility vehicles and ground support equipment) and vehicles for consumer, commercial and government applications, (including golf courses, municipalities, airports, resorts and factories). This group also supports new product development, value analysis and value engineering ('VAVE') and concept development activities. Methods include 2D modelling, 3D modelling, geometrical tolerance and dimensioning, basic analysis, upfront analysis, and virtual testing.
The functions performed by TSV in India include:
Design: The design team is responsible for the design of vehicles manufactured by TSV. TSV performs the functions of advanced vehicle design, which involves conceptualisation and preparation of high level design. The team in TIPL is engaged in 2D/3D drawings, drafting (using CAD tools), electrical design support and analysis and VAVE. The designs are subject to TSV's review and approval.

Technical Publications: The technical publications team converts complex engineering communication and drawings into written format explaining product operation, service and repair. These technical publications are produced for customers after review and approval from TSV.

Product Development Management ("PDM"): The PDM team, with IT and engineering knowledge, customises applications used by the engineering team.
Textron business units undertake high-end functions ranging from customer and business requirement analysis, conceptual design and feasibility study, manufacturing and sale of various aviation and automotive products and related after sale support services. In turn, TIPL business units render low end engineering design services to the respective Textron business units and their product portfolios under the complete ownership and supervision of Textron.
IT SUPPORT SERVICES
The IT support team in India performs application development and maintenance and technical support services for Textron's global business units under direction of the U.S.-based Textron Information Services organization.
Application development
The development of software application involves a number of stages ranging from system and requirement analysis to implementation. The development process includes system and requirement analysis, high-level designing, low-level designing, coding, testing and implementation.
Maintenance services and technical support services
Software maintenance includes performance improvements, error corrections, enhancements and optimization. TIPL provides routine maintenance and technical support services for existing applications and builds upon existing technologies and products with varying scale and volume. Supported technologies include:
ERP software such as SAP and Peoplesoft

Business Intelligence such as .net and java
MARKETING SUPPORT SERVICES
TIPL's marketing support services team liaisons with prospective buyers of Textron's business unit products in India including the Government of India and State Governments, Indian conglomerates and other third party customers. Activities relating to price negotiations and conclusion of contracts are undertaken by respective offices of business units located in the U.S.
The marketing support services supported by TIPL are:
Defence Sector
Discover when Request for Information ("RFI") are issued by the Ministry of Defence (MoD). Further TIPL assists Textron with receiving the forms from the MoD in order to submit such responses.

Gather business intelligence about competitors including products, services and pricing information.

Contact defence agencies to obtain RFI status updates

Civil Sector
TIPL assists Textron business units with identifying the prospective customers. Textron partners with third party distributors in India, who facilitate order booking and product sales.

Third party distributors work on a commission model for the sale of Textron products. Since these distributors are not involved in buying and selling, customers directly remit payments to Textron.

Distribution Activity

TIPL also acts as a routine distributor for the Klauke division for crimping and cutting tools, testing, measuring and inspection devices and connecting materials for electrical engineering applications. TIPL also distributes golf cars and golf shuttles for Textron's Ransomes Jacobsen division. For undertaking distribution activities, TIPL imports traded goods from Textron's business units and sells them to end customers in India.

In addition to the above, TIPL supports the Finance Shared Service (FSSC) function that runs the back-office accounting for our businesses.